ESP32C3 Arduino Development for IoT projects
Seeed Studio XIAO ESP32C3 adopts new RISC-V architecture, supporting both Wi-Fi and BLE wireless connectivities. For Internet of Things applications, you will find it flexible and suitable for all kinds of IoT scenarios.
Powerful Performance: Built around a high-performance ESP32C3 chip with clock speeds up to 160 MHz.
Seamless Connectivity: Integrated WiFi and Bluetooth 5.0 support for reliable wireless communication.
Versatile Development Platform: Multiple development ports for full compatibility with Arduino and Circuit Python.
Compact and Portable: Small form factor for easy integration into wearable devices and compact setups.
Energy-Efficient Design: Elaborate power management system with four working modes, including ultra-low power deep sleep mode.
Breadboard-Friendly Design: SMD design with no components on the back for simplified prototyping.
Flexible MCU Board: Incorporate the ESP32-C3 32-bit RISC-V chip, operating up to 160 MHz, mounted multiple development ports, supported by Arduino / CircuitPython
Outstanding RF performance: Implement complete Wi-Fi functions and Bluetooth Low Energy, while supporting communication over 100m with a U.FL antenna
Elaborate Power Design: Provide 4 working modes as low as 44 μA in deep sleep mode, while supporting lithium battery charge management
Thumb-sized Design: 21 x 17.5mm, Seeed Studio XIAO series classic form factor, suitable for wearable devices
Perfect for Production: Breadboard-friendly & SMD design, no components on the back
Description of the board ESP32C3:
The board takes your IoT projects to the next level with its advanced features and exceptional performance. Powered by the ESP32C3 chip, it combines reliable WiFi connectivity with the low-energy capabilities of Bluetooth 5.0. This ensures seamless wireless communication, opening up a world of possibilities for your IoT applications.
Equipped with a powerful 32-bit RISC-V processor and 160 MHz clock speed, the ESP32C3 delivers impressive performance for demanding tasks. Its integrated WiFi subsystem allows for various Wi-Fi modes, including Station mode, SoftAP mode, SoftAP & Station mode, and promiscuous mode, providing versatility for different application scenarios. With 400 KB of SRAM and 4 MB of Flash, the ESP32C3 offers ample storage space for your programs and data.
Designed with convenience in mind, the ESP32C3 features a compact form factor that is perfect for projects with space constraints. Its small size, along with the inclusion of multiple development ports, ensures compatibility with the Arduino and CircuitPython platforms, making it easy to get started with your favorite programming environment.
Energy efficiency is a priority with the ESP32C3.
It offers four working modes, including an energy-saving deep sleep mode that consumes as little as 44 μA. This makes it an ideal choice for battery-powered applications and extends the lifespan of your devices.
Whether you're a beginner or an experienced developer, the ESP32C3 provides a user-friendly development platform. Its breadboard-friendly design simplifies prototyping, while the absence of components on the back ensures a clean and organized layout.
Experience the power and versatility of the ESP32C3 WiFi Bluetooth 5.0 Arduino Development Board. Unleash your creativity and bring your IoT ideas to life with this exceptional board. Get started today and embark on a journey of innovation and exploration.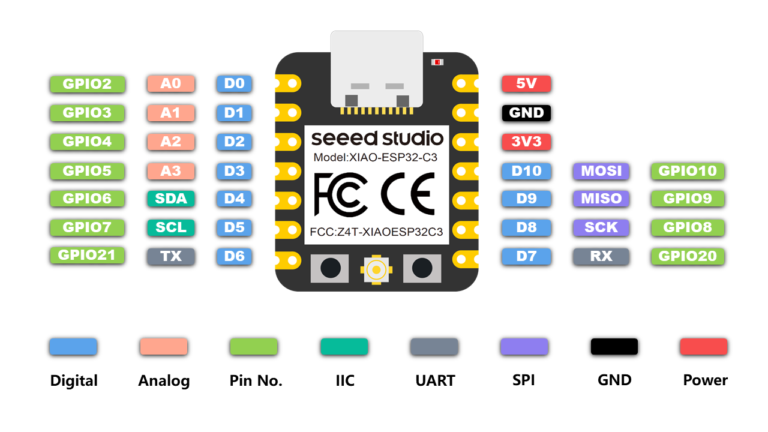 Attention!
It will be a little hard to connect the antenna for the first time using the board.
Please connect the antenna in the vertical direction and do not drag it in the horizontal direction.
Application
Internet of Things
Wearable devices
Health monitoring
Education
Low-Power(LP) networking
Rapid prototyping
XIAO ESP32C3 Getting started tutorial with Projects